Were you one of the many who embraced the Gray trend?  Are you still in love with it or feel like you need to warm it up?  At the time of this writing, one of the biggest Trade Only Markets is going on in High Point, North Carolina, with gold and beige showing everywhere. Just look at how gold is impacting today's fashions which is always a steppingstone into your home. When I say gold, that isn't only mustard or pure gold-tone, it can be a soft honey color or anything with a nuance of yellow-orange.
The beauty of gold and beige is they complement the wood colors that remain in many homes. Not everyone has jumped on the "if it is wood, paint it" bandwagon. The clash of cool grays with warm woods, can be a visual glitch in a room and detract from both colors.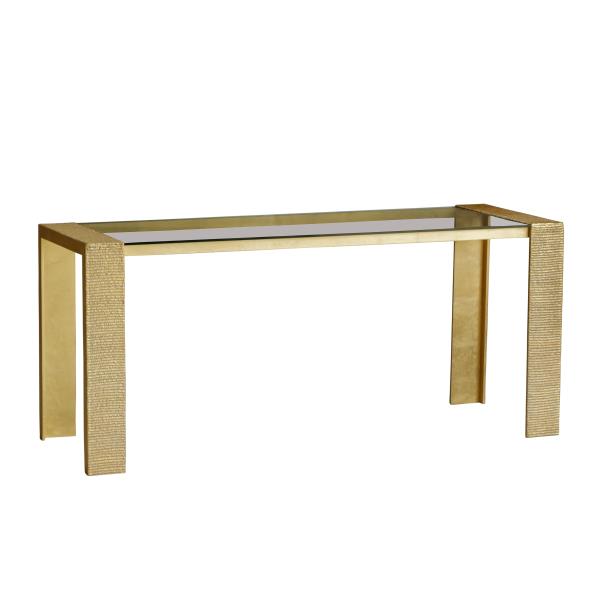 Today's self-stick wallpapers have added a new and easy way to add a pop of color and interest. Now, before you run to the hills screaming, "No wallpaper!" this is easy to apply and more important, easy to remove. It pulls right off the walls with no damage, just grab a corner and peel.
A fabulous way to add warmth to your room is with the addition or change of your room's metallic components of your room. Just like the spark a great necklace will add to your dress, metals can transform a room. Look at this piece, (Alden) with gold hardware.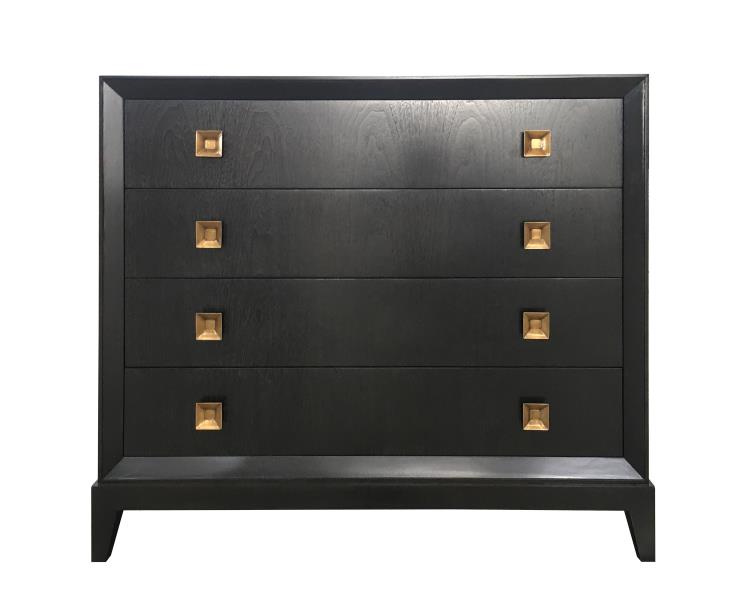 So, what happens if you painted the walls gray and do not want to change it? Simply add the warmth of beige and gold in décor items, accent paint in the back of a bookcase, or a new piece of furniture. See this table by Alden Parks, new to their collection. What a great way to add warmth to your gray room without a complete makeover.
Update a lamp by spray painting the base.  Add a colored lamp shade for a pop of color.  We have been living with white shades for a while…get brave and do something unique. 
If you are not ready for gold, add in warm grays, (often called greige) or beiges in throws, accent pillows, area rugs or matting in art. Even consider the beautiful blues, teals, and deep greens that are back in vogue to update the cool look of your existing gray sofa or walls.

When you add new colors to a room, marry the color harmony with a piece of art or area rug that marries the old and new.  I would love to help you find those key pieces so your room can be ready for 2020, with an updated and on-trend look. Ask about our eDesign packages. 
Here are a few of my favorite pieces that will update a space and not break the bank.
---
Fué usted uno de los muchos que adoptó la tendencia gris? Está usted todavia encantado con esta tendencia o usted siente que necesita subirle el tono? En este momento uno de los mayores mercados de comercio está pasando un punto alto, Carolina del Norte, con dorado y beige mostrándose en todas partes. Mire como dorado está impactando la moda de hoy, lo cual es siempre un escalón en su casa. 
Cuando digo dorado, no es solo mostaza o dorado puro, puede ser un color miel suave o cualquier color con matiz de Amarillo-Anaranjado.
La belleza del dorado y el beige es que ellos complementan los colores de la madera que permanece en muchas casas. No a todo el mundo le gusta pintar la madera.
La combinación de colores grises frios con maderas cálidas pueder ser un fallo visual en una habitación y disminuir ambos colores.
Entonces que pasa si usted pintó de gris sus paredes y no quiere cambiarlas? Simplemente agregue un color cálido como el beige y dorado en elementos de decoración, pintura llamativa en el fondo de una biblioteca, o un mueble nuevo.
Mire esta mesa de Alden Parks, nueva en su colección. Excelente manera de añadir calidez a su habitación gris sin necesidad de un cambio de imagen completo.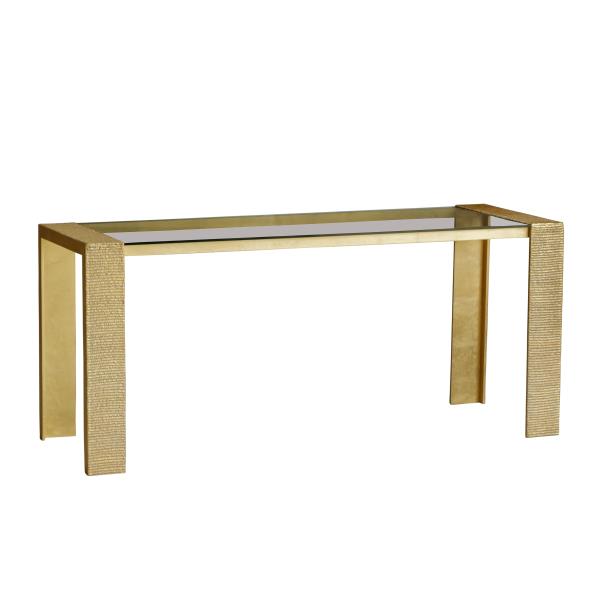 El papel de colgadura de hoy dia es una nueva y fácil manera de añadir pop de color e interés.
Es fácil de aplicar y lo más importante… fácil de remover. Se retira de las paredes sin dañarlas, solo coja una esquina y retire.
Una manera fabulosa de dar calidez a su habitación es añadiendo o cambiando los componentes metálicos de su habitación . Componentes metálicos pueden transformer su habitación. Mire esta pieza, (Alden) con hardware dorado.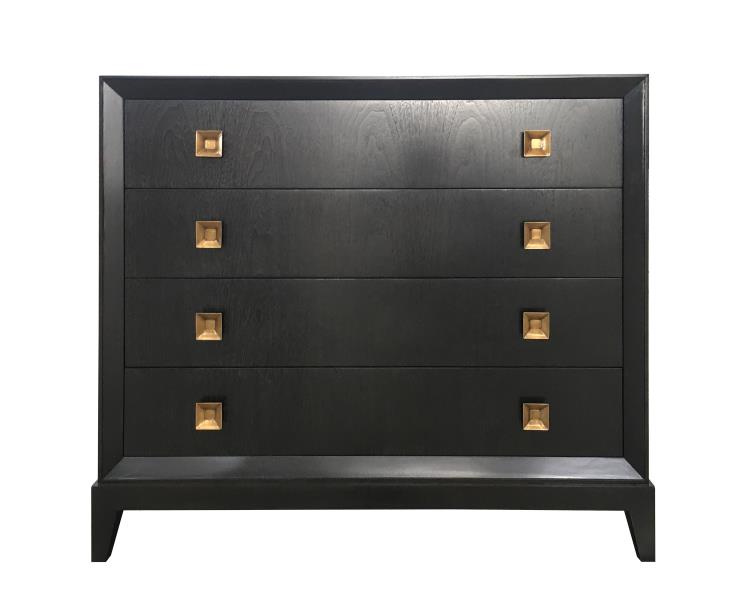 Actualize una lámpara, pintando la base. Añada un shade de color a la lámpara para darle realce al color. Hemos vivido con shades blancos por mucho tiempo, sea valiente y haga algo único.
Si usted no está listo para el dorado, agregue un gris cálido o beiges en throws, almohadas de decoracion, alfombras, o matting en arte. Inclusive considere los hermosos azules, teals y verdes oscuros que están de nuevo en auge para actualizer el look frio de su existente sofa o paredes grises.
Cuando usted agrega un nuevo color a su habitación, complemente la armonía de color con una pieza de arte o alfombra que complemente lo Viejo y lo nuevo.
Me encantaría ayudarlo a hayar esas piezas claves para que su habitación esté lista para el 2020, con una renovación y un look a la moda. Pregunte por nuestros paquetes de eDesign.
Aqui hay algunas de mis piezas favoritas que renovarán un lugar sin ser demasiado costosas.
---
---
Regina "Gina" Sullivan | Decorating and Staging by Gina
Hi, I am Gina (Regina) Sullivan. I was born in Cali Colombia and arrived in the USA in 2007 to settle in Indiana. My American husband and I are blessed to have a handsome 5-year-old little boy, who like most boys, can be a bit of a rascal. I speak Spanish and English, as does my Son. I work hard trying to build a better life for him. I want him to appreciate the beauty and comfort of a lovely home, where even simple things can be better. One of my simple pleasures is I Like My Coffee in the morning. I have always loved colors and creating beautiful spaces. A few years ago, I took some online drapery classes and it just ignited my love for Interior Decoration and everything related to it. I began training with a variety of industry experts and can't wait to share my love for decorating with you. I have learned over the years, an organized home looks better. I like to be organized. Some of my favorite things, (beyond my morning café) are going to the ocean and visiting my parent's farm in Colombia. Both places make me feel peaceful and inspire by eye for color and design. I would love to help you have the home that brings you peace and provides comfort. There is nothing better than coming to a beautiful home at the end of a long day.
Learn more about working with Regina Sullivan of Decorating and Staging by Gina through her eDesign Tribe member profile !
You can also follow Regina on  Facebook , Instagram and Pinterest .
* This site may contain affiliate links to products. The designer may receive a commission for purchases made through these links.